Sample Brew Festival Tent Pushes the Envelope
An Awe Inspiring Celebration
Melbourne's Sugar Mountain Festival is an annual celebration of cutting-edge music and art. Treasures in the two tastiest offerings (music and art) are complimented by creative site design and tasty food and drink. Sample Brew decked out their tent design with some clever applications. A completely immersive sensory experience was created with Danpalon® internal partition wall systems and interior wall cladding.
By Day and by Night
Day and night saw two completely different experiences to be had while sipping Sample Brew's iconic beverages. The Sample Brew site was outfitted to create a miniature party space within the greater festival site. During the day, the partitions glowed with natural light. At night, the translucent panels were alight with colour.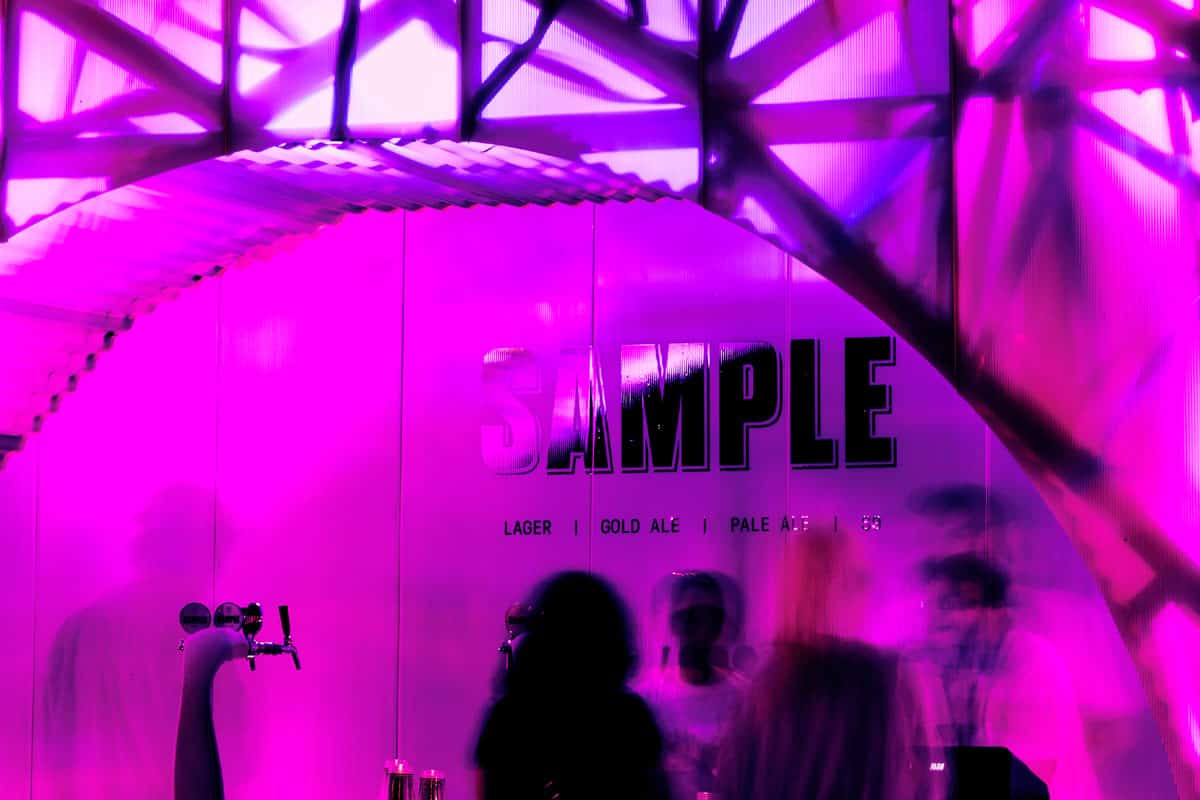 Design by Folk Architects, Melbourne
Folk Architects referred to the National Gallery of Victoria (NGV) in their design. At the gallery entrance, light streams out through the brickwork arches from inside the building. Sample Brew's festival layout was essentially an inversion of the NGV concept.(1). The NGV lights up the brickwork façade at night with striking imagery, as many Melbournians have come to appreciate.(2)
8mm Interior Wall Cladding
The design for Sample Brew featured a distinctive illuminated arch, creating a visual presence that was equally inspiring as the beers themselves.(3) Danpal's(4) ice coloured interior wall cladding and internal partition walls provided the perfect canvas for illumination in the area above the archway. The colours and patterns of the panels changed throughout the festival. The rich illumination of the panels created a sense of intimacy even though the area was open and spacious, luring passers-by inside for a boutique ale.
Easily Removable and Recyclable Panels
Danpal systems are fully demountable and recyclable if necessary, making them ideal for temporary events such as this.
Interior Wall Cladding and Internal Partition Wall Systems
Danpal's interior systems are made with the same technical mastery as Danpal's well-known exterior façade systems. Microcell technology expertly diffuses light to create a light-filled space with no glare. The interior systems can be illuminated any number of ways, putting the cherry on top of a design that looks great day and night. Ambience, moods and messages can all be expressed with different colours, finishes and shapes.
Sugar Mountain Festival and outlets such as Sample Brew certainly gave festival-goers a completely new experience that was one to remember.
References
1. Electrolight. National Gallery of Victoria (Facade Lighting), Melbourne, Australia: Electrolight; n.d. [9 Jul 2019].
2. Xenian. National Gallery of Victoria: Xenian; n.d. [9 Jul 2019].
3. Sample Brew. Sample: Sample Brew; 2017 [9 Jul 2019].
4. Danpal Australia. Sugar Mountain Festival – Sample Brew: Danpal Australia; 2019 [9 Jul 2019]
---
View the Sugar Mountain Sample Brew Project Gallery
Click to explore more project case study articles or view our case study videos.