Specifying with NATSPEC Worksections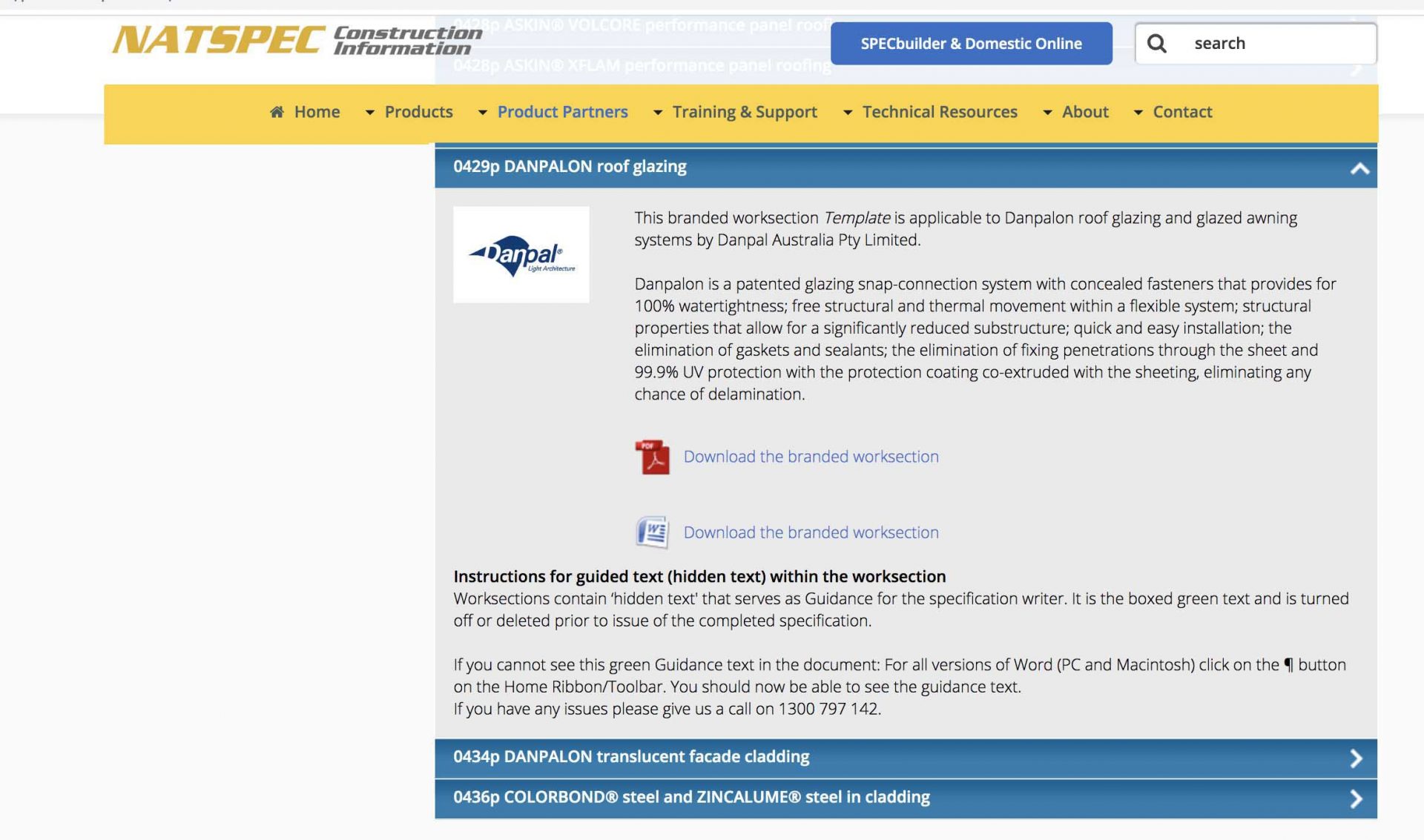 As a non-profit run by the industries who use it, NATSPEC is the forerunner in all building specifications. NATSPEC specifications are nationally endorsed and used across the construction, architectural, engineering and design industries. What makes up the core of NATSPEC specifications are their worksections. Comprehensive, quality worksections are linked to project success in the following ways:
Meeting budgetary limits;
Fulfilling value, quality and functionality goals, and;
Completing projects on schedule.
NATSPEC Free Download
Specifiers, students and designers alike can access generic and branded worksections from NATSPEC. Other valuable resources available with a free account include TECHnotes, TECHguides and TECHreports. These documents cover everything from specifying R values to energy efficiency provisions. They also suggest what worksections to include in the documentation.
The Benefits of Branded Worksections
NATSPEC and a suite of product partners have collaborated to prepare branded worksections. All data and information are updated twice a year by NATSPEC and their product partners such as Danpal Australia, to ensure conformity with all standards and codes.
3 Major Benefits of Branded Worksections
Up to 90% more pre-filled data than generic worksections;
Direct links to manufacturer technical and product pages.
Options for customisations via adding or modifying text.
Worksection Building Codes and Standards
Australian building code standards.
Ecologically Sustainable Development (ESD) – green star, BCA.
Bush fire and fire hazard requirements.
Wind loading.
Thermal insulation – U values, and more.
Accurate Danpal Product Data for Technical Writers
Product types;
Minimum/maximum panel lengths;
Optional co-extruded finishes;
Stocked colours;
Connectors, and;
Sub-frames.

Budget and Risk
NATSPEC specifications in generic and branded worksections save time and project costs.
Branded worksections clearly outline what Australian building codes they meet. With this kind of critical information on hand, specification writers can reduce risk ahead of time. Early and informed product and material choices reduce risks to building quality and project budgets.
Building quality:
Meet and exceed minimum building requirements with confidence.
Construct with products that can withstand the local environment.
Reduce the risk of building damage from bush fires, cyclones and hazards.
Budget:
Choose long-lasting products and reduce the long-term costs of the building.
Analyse energy efficiency over the lifetime of the building to reduce energy demand.
Compare maintenance requirements of building materials and applications to balance costs.
Eliminate costly replacement products or redesigning at the end of the project.
All critical information is provided directly from the product manufacturer, and technical documents are linked from within the worksections. As a result, comparing product functionality and specifications can be done seamlessly and in less time.
Save time, increase building efficiency and reduce costs today. For Danpal NATSPEC branded worksections look for:
0429p DANPALON roofing – glazed
0434p DANPALON translucent facade cladding
Available here.
---
Read about inspiring Australian projects through our case study articles or view our Thought Leadership Videos to learn more.