Roofing Systems That Offer the Greatest Health Benefits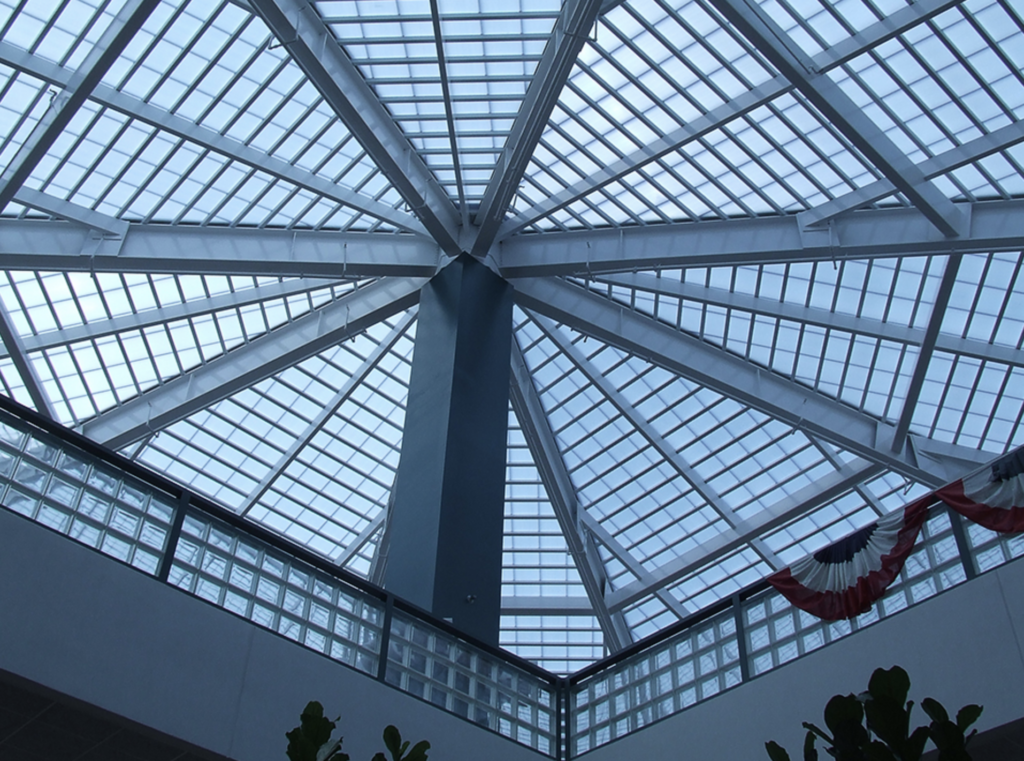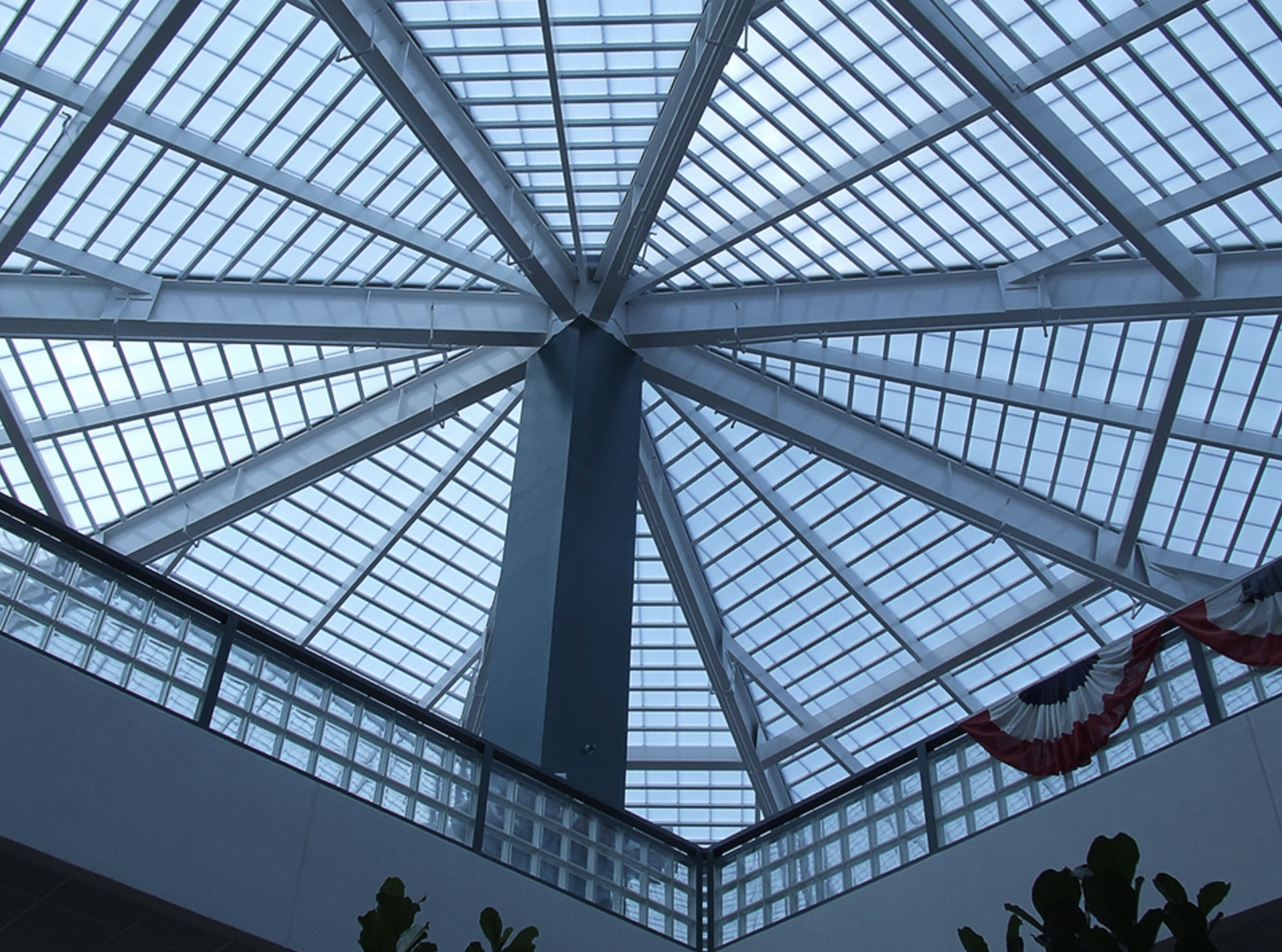 Healthy work environments are essential for staff and client health, productivity and wellbeing. An effective way to boost health and morale is by bringing natural light inside. Architects are using alternative types of roofing systems made of quality polycarbonate as opposed to traditional roofing, such as metal. Alternatives include standing seam roofs and flat roof systems. Traditional roofing systems protect against the elements and insulate – however, they do not introduce natural light into the building.
The importance of daylighting design grows the more we learn about the extensive benefits of natural light.
Buildings can Improve or Hinder Health
The buildings we live and work are significant contributors to our health. Dark, poorly ventilated buildings promote poor mental and physical health. Studies show that prisoners in isolation suffer dramatic deterioration to their:
Physical state;
Mental resilience;
Attitude and motivation(*1).
Six Health Benefits Your Building Could Be Providing to Staff and Clients:
Improved concentration(*2, 3);
Greater levels of productivity(*2-4);
Enhanced sense of wellbeing(*2);
More in-tune with the time of the day(*2);
Higher rates of satisfaction(*2, 4);
Lower stress and fatigue levels(*2, 3), and much more.
Where we spend our time impacts us in a myriad of ways.
Sunlight has a multitude of chemical reactions with the physical body, nervous and endocrine systems(*3).
High-Performance Buildings for High-Performance Staff
Staff on the front lines in health, social services and emergency response are boosted in healthy work environments. These industries are under constant pressure to perform well because people are relying on them.
Daylight, PTSD & Staff
Daylight has incredibly positive effects on mental health. This is particularly relevant to veterans. Veterans have higher rates of post-traumatic-stress-disorder (PTSD) and major depression(*5, 6). Daylight, access to and views of nature are consistent building design inclusions. They are essential for buildings with clients undergoing physical and mental health recovery(*2, 7-9).
Staff experience lower stress, greater resilience, increased concentration and productivity(*2, 3). Healthy work environments empower front line staff in their delivery of high-quality support and care.
Breathtaking Standing Seam Roof Skylight Installed in Veterans Office
Design Example – Veterans Affairs Regional Office Renovation, Tampa, Florida:
The Regional Office for Veterans Affairs in Tampa replaced their old, yellowed roofing system. The new roof filters natural light into the entirety of the building. The benefits are extensive in this situation. The office caters to staff working with veterans and veterans themselves.
Danpalon® multicell standing seam panels were used as both a roof and a skylight. Danpal roof systems can span up to 12 metres (or more on request) because they can be self-supporting. The panels solve practical goals for the building and space from:
Off-site manufacturing to;
Being fully recyclable at the end of their lifespan.
Because of their large spanning capabilities, colours and finishes, they also give architects freedom in design.
Aluminium frames bring a contemporary feel to the panels encompassing the building's roof, while the Ice colour and matte finish glazing prevent glare:
Subtly allows the blue sky colour to filter through, and;
Filters light naturally into the space.
The insulative properties in Danpalon® panels contribute to the maintenance of heat gain and loss and improve user comfort.
Roof systems used in Australia must be strong enough to withstand heat, wind, rain and hail. The VA Office is a commendable example of how the multicell standing seam roof system can be used.
Given the incredible benefits to mental health and cognitive function, it is no wonder organisations such as Veterans Affairs are renovating with light in mind.
References
*1. Arrigo BA, Bullock JL. The Psychological Effects of Solitary Confinement on Prisoners in Supermax Units: Reviewing What We Know and Recommending What Should Change. International Journal of Offender Therapy and Comparative Criminology. 2008; 52(6):[622-40 pp.].
*2. Boubekri M. Daylighting, Architecture and Health: Building Design Strategies. Amsterdam: Architectural Press; 2008.
*3. Çakır AE. Daylight for Health and Efficiency: A New Career for an Old Friend. Ergonomic Institut, Berlin, Germany. 2010.
*4. Pniewska A, Brotas L. Daylight and Productivity in a School Library. Proceedings of CISBAT. 2013:[341-6 pp.].
*5. Brangwin N. Mental Health of Military Personnel and Veterans. Foreign Affairs, Defence and Security Section. 2020.
*6. Van Hooff M, Lawrence-Wood E, Hodson S, Sadler N, Benassi H, Hansen C, Grace B, Avery J, Searle A, Lannos M, Abraham M, Baur J & McFarlane A. Mental Health Prevalence Mental Health and Wellbeing Study 2018.
*7. Khanade K, Rodriguez-Paras C, Sasangohar F, Lawley S. Investigating Architectural and Space Design Considerations for Post-Traumatic Stress Disorder (PTSD) Patients. Proceedings of the Human Factors and Ergonomics Society Annual Meeting. 2018; 62(1):[1722-6 pp.].
*8. Verderber S. Innovations in Behavioural Health Architecture 2018.
*9. Shepley MMC, Pasha S. Design for Mental and Behavioral Health: Routledge; 2017.
---
Read about inspiring Australian projects through our case study articles or view our Thought Leadership Videos to learn more.