3 Steps to Harness Daylight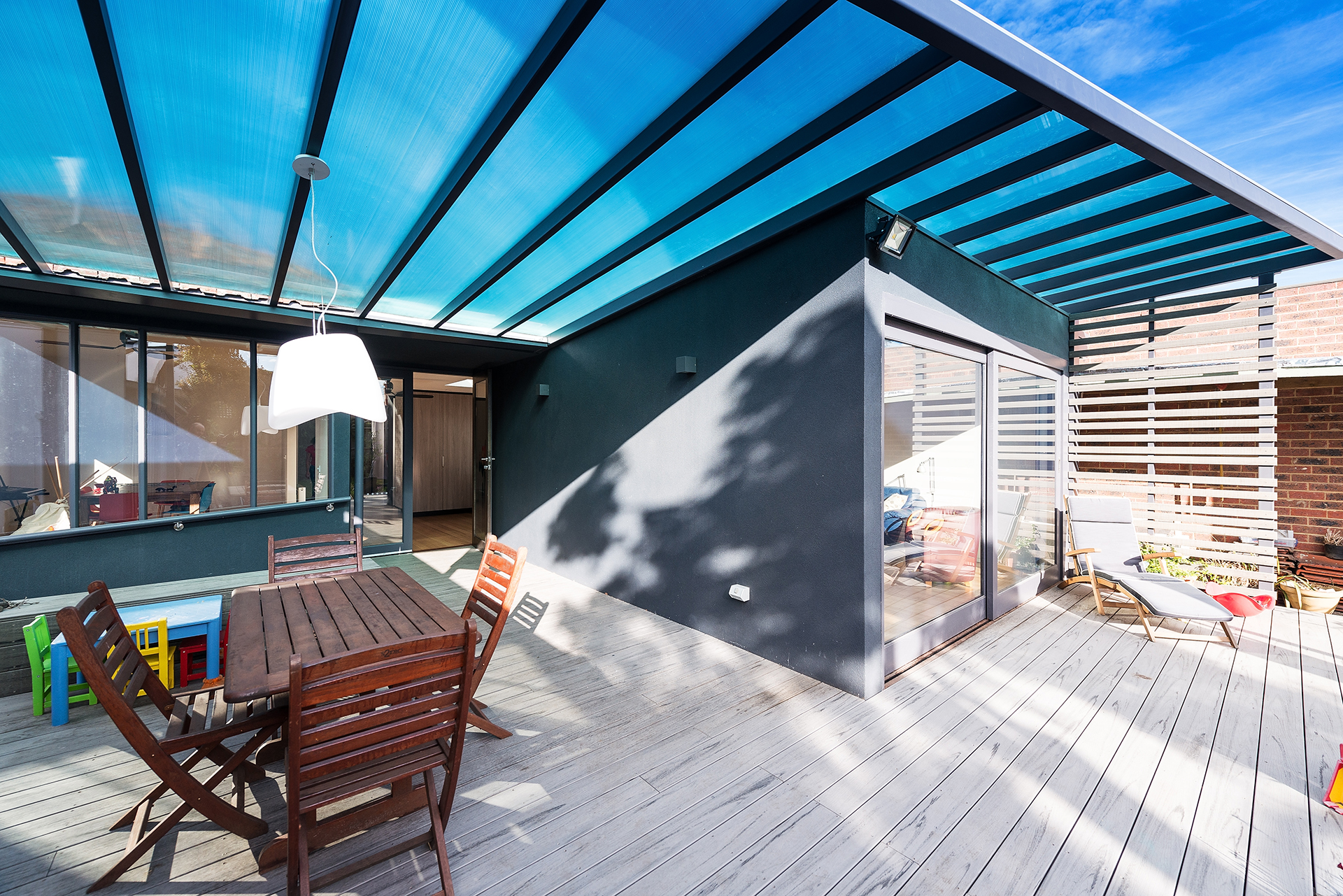 Danpal's lightweight and pre-engineered solutions take the hassle out of designing and building.
Watertight and durable translucent or transparent walls and roofs deliver all the best that natural lighting has to offer: health, amenity and thermal performance.
Whether you're looking at an outdoor awning, pergola or a large cover for commercial or industrial areas, you don't have to settle for a cold, dark space by using traditional materials. Enjoy bright and comfortable natural light outdoors and indoors.
Here are 3 steps to consider when designing your project:
1. Consider the amount of light you need
The power to control light transmission is in your hands. While a clear polycarbonate sheet will transmit in excess of 80% of light, consider whether you really want that much light coming in.
While Danpal's polycarbonate panels block 99.9% of harmful UV, a lot of light will bring a lot of heat. Consider that direct sunlight provides illuminance of 98,000 lux (lumens per square metre) while the recommended illuminance level for a professional laboratory is 750 to 1200 lux. For typical commercial environments a level of 300 – 500 lux is recommended and only 100 to 300 recommended for most rooms in private houses.
Danpal offers you the ability to change the colour of your panels to better suit the amount of light required and control the associated heat gain (SHGC). Our Reflective colours range is renowned for its heat-stopping properties.
2. Think about whether you want direct sunlight all day long
Considering the aspect of your project, can you utilise the angle and path of the sun to your advantage? Perhaps the area you're roofing or cladding gets too hot during the noon hours at summer. You could consider shading devices or louvres, adding additional cost.
Alternatively, Danpal's 3DLite panels offer internal cells that alternate between clear and opaque, allowing direct sunlight to pass through clear cells when the sun is at certain angles to the surface and can be blocked by opaque cells when the sun is more perpendicular to the surface. These panels can be used on walls and roofs with our range of proprietary frames and support systems.
3. What properties and quality do you want in the material
While glass is a default choice that is widely used, it is heavy, expensive and susceptible to cracking and breaking. The transparency and clarity that glass offers is a desirable trait, however it is unforgiving thermally with poor tinting control and excessive heat gains.
Danpal's world leading polycarbonate technology offers a wide variety of translucency for light diffusion and transparency for complete clarity like glass. The Danpalon® Compact panel is 200 times stronger than glass and is available in colours without the need for additional film. Danpal polycarbonate panels can resist impacts 250 times more than glass and 20 times more than acrylic.
Danpal's range of polycarbonate glazing panels for roofing and wall applications offer homeowners, architects and designers a premium solution to harness the power of daylight.
---
Read about inspiring Australian projects through our case study articles or view our Thought Leadership Videos to learn more.