Contemporary Sport Facilities with Natural Light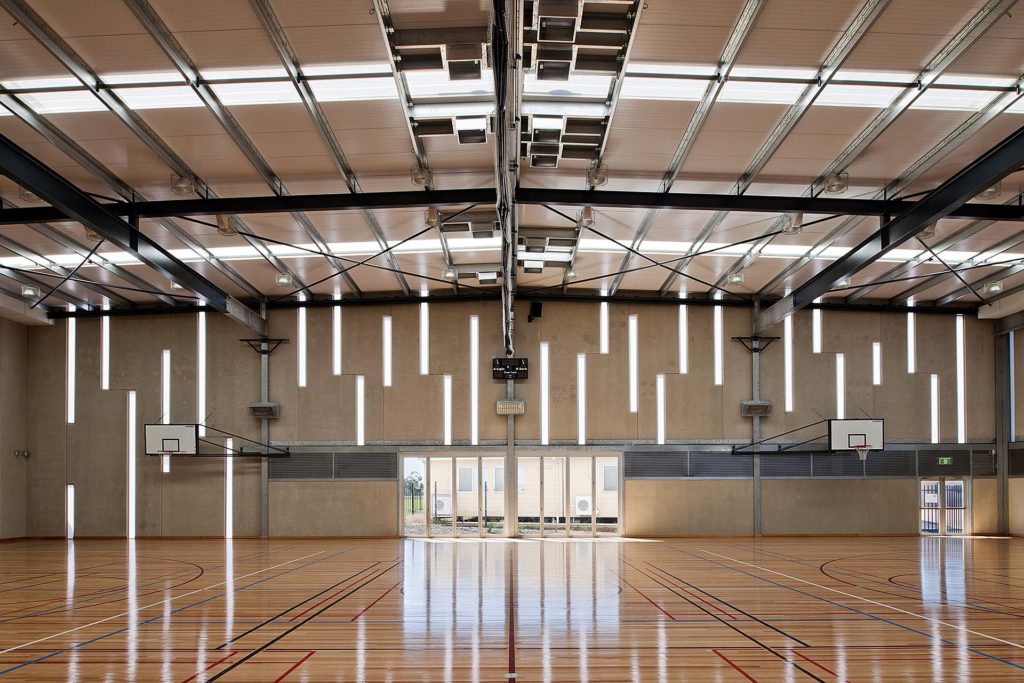 Every day around the world, people get up in the morning, go to work and return home. The buildings seen most often are the house and workplace. For Australians, outside based hobbies and leisure activities come with the climate. However, Australians aren't spending as much time out in the daylight as expected. Five hours per day is spent on digital devices. Many sports traditionally held outside have moved inside. This has primarily been to avoid poor weather conditions and increase comfort. Sporting facilities have picked up on this trend and are now bringing light inside.
Why is Light Important for Sporting Facilities?
Natural light benefits the health and amenity of building users, as well as potentially making a building more energy-efficient if it is appropriately filtered. All animals, plants and humans need sunlight to function. From sleep quality to bone strength, light plays an integral role in human health. Natural light is a critical factor in performing well and recovering from exertion. Vitamin D deficiencies exist in approximately 77% of the population, including athletes(*1).
With more time spent indoors, it is essential for architecture to bring light inside.
Building Benefits:
Natural light is sustainable. It reduces the need for artificial lighting during the day in almost all weather conditions.
Daylight design reduces, and in some cases, eliminates cooling and heating requirements.
The visual appeal of internal spaces increases when they are illuminated with natural light.
Lighting, cooling and heating requirements differ for sporting facilities. Each location's natural climate, sun direction and level of luminescence varies. These factors influence the type of products used and wherein the building envelope they are best applied.
Athletes, Spectators and Staff Benefits
Sporting facility design that benefits athletes also benefit spectators and facility staff.
Daylight improves cognitive function(*2). Athletes' minds are sharper, and reflexes improve with access to natural light.
Natural light repairs and regenerates the body(*3). The exertion from playing sports drains the body. Natural light reduces inflammation, pain and improves recovery.
Sunlight interacts with the body's chemical processes that provide us with vitamins, minerals and energy(*4).• Muscle strength improvements occur with sunlight exposure(*3).• Glare at sporting events is not only uncomfortable; it can cause headaches. Everyone benefits from daylight applications that reduce glare and evenly distribute light.
How are Architects Integrating Light into Sporting Facilities?
Sporting facilities need various light levels with and between different spaces(*6). For example, basketball and netball courts need higher luminescence on the court than in the stands. Contrasting light improves comfort for spectators and it is functional for players. Luminescence requirements drop in areas such as stairways and locker rooms(*5).
Architects are working hand-in-hand with polycarbonate façade companies to obtain optimal results.
Intelligent Designs with Polycarbonate
Here are four products architects are integrating into designs:
Premium Grade, Custom Polycarbonate Panels
Design Example – St Columba College Gymnasium, South Australia (SA)
Phillips Pilkington Architects collaborated with Danpal in their design of the St Columba College gymnasium in South Australia. The new gymnasium boasts an innovative use of contemporary building façades. The façade panels were custom made by Danpal to obtain a perfect balance between natural daylighting and managing passive heat gains.
Featured on one side of the sports hall are vertical, geometric precast concrete walls. Narrow openings in the western elevation allowed for the installation of Danpal's polycarbonate panels with appropriate control of afternoon heat gains.
Larger daylighting areas on the north, east and south elevations provide abundant daylight, especially in the morning. Danpalon® panels prevent glare by dispersing light evenly through their cellular panel structure. The multicell panel structure also provides insulative properties that naturally manage solar and thermal gains and losses.
REFERENCES
*1. Ogan D & Pritchett K. Vitamin D and the Athlete: Risks, Recommendations, and Benefits. Nutrients. 2013; 5(6).
*2. Kent S, McClure, LA, Crosson, WL, Arnett, DK, Wadley, VG & Sathiakumar, NEffect of sunlight exposure on cognitive function among depressed and non-depressed participants: a REGARDS cross-sectional study. Environmental Health. Environmental Health. 2009; 8(1):[34 p.].
*3. Mead N. Benefits of Sunlight: A Bright Spot for Human Health. Environmental Health Perspectives. 2008; 116(4).
*4. Helix. How DNA Helps Humans Harvest Energy From the Sun: Light Sensing Machinery Transforms Sunlight into Body Chemistry. San Mateo, California: 2018.
*5. Sport Scotland. Understanding Daylighting of Sports Halls 2018.
---
Read about inspiring Australian projects through our case study articles or view our Thought Leadership Videos to learn more.