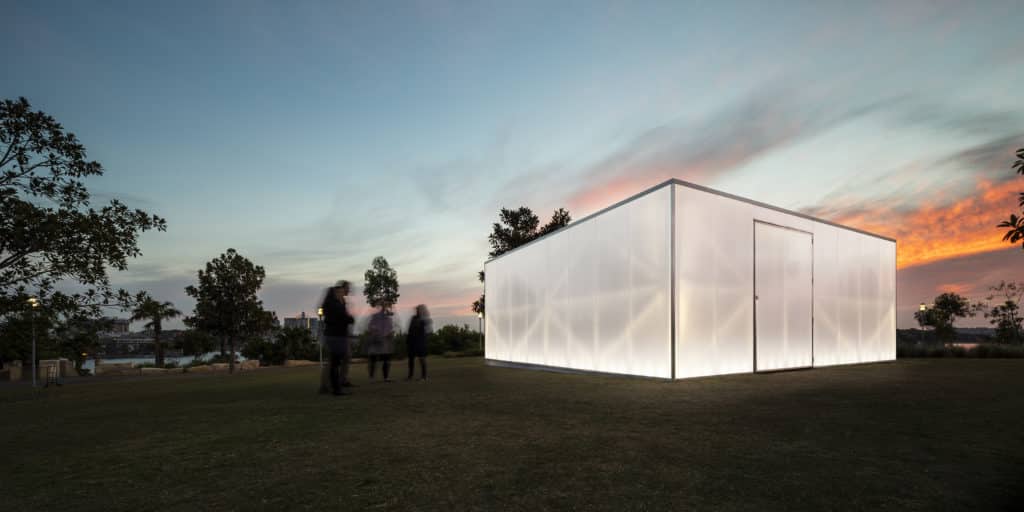 Danpal polycarbonate panels have been used to bring to life the stories and sounds of Australia's First Peoples.
Urban Theatre Projects and curator Daniel Browning teamed up with Australian architect Kevin O'Brien to create Blak Box. Kevin was asked to design an easily relocatable lightweight structure that would showcase recorded sound and light design, allowing the user to become fully immersed in a dream-like state within a visually and aurally interesting space.
In a conversation with ABC, Kevin O'Brien explained why the Danpal polycarbonate panels appealed to him as a material choice. "It diffuses light, but it also receives light" (Blueprint for Living, 2018). Danpal panels provide an intriguing visual and textural contrast with the natural environment in which they're located. Nestled within Sydney's Barangaroo reserve, the panels picked up sunlight during the day and were spectacularly back-lit with artificial lighting at night. The transition between day and night creates particular visual interest:
"Around sunset when the sun's hitting it and penetrating it, you get this fabulous kind of watery transparency and it's those sorts of things that sit in the mind and they make the thing interesting immediately because of the material condition" (Blueprint for Living).
Kevin went on to describe how the artificial lighting design used within the double layered translucent Danpal facade completely transformed the space internally and externally after dusk.
Blak Box at Barangaroo in Sydney on Video, presenting the stunning effects of polycarb
Kevin spent considerable time searching for the ideal daylighting material. As he explained to ABC, he remembered a house while working on the initial design that he had seen almost two decades ago in New Zealand. It had a central room that was reported to be the best room for conversation. The shape and material of the room had resonated with him at the time and he had never forgotten it. He researched the original architect of the house which led him to Stockholm and then finally to Danpal Australia.
The material he needed to properly showcase both natural and artificial light was found. What he didn't realise at the time was just how visually stunning it would turn out to be and how well it would fit with the other elements of the project's initial brief.
Blak Box has no floor, thereby promoting direct connection between visitors and the country they are standing on. The lighting system was custom designed for the project to supplement and blend cohesively with natural light during the day, as well as reflect and represent the environment in which it is placed. The sounds used are also reflective of the surroundings in which they are located and will change to reflect the individuality of each site Blak Box travels to.
We are proud to be sponsors of Blak Box and enthusiastic to see where Urban Theatre Projects take it next.
The project was first revealed at Bangaroo Reserve. It will take in the surrounds of Blacktown Showgrounds when it travels there for the Sydney Festival in January and February 2019.
Reference
Blueprint for Living (2018), 2nd June 2018 [Podcast]. 2 June. Available at www.abc.net.au/radionational/programs/blueprintforliving/blak-box/9824210 (Accessed: 15 December 2018).