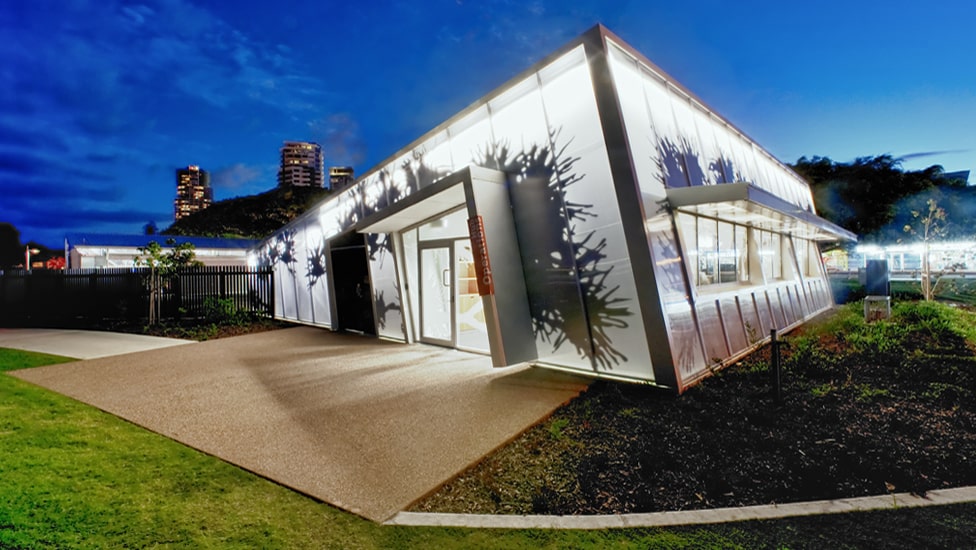 Danpalon translucent facade wall, survives the test of time along the tropical coast
September 2010 saw the construction of the Hub workshop and administration buildings. They were completed in the second stage of the massive $17 million redevelopment of the Southport Broadwater Parklands.
10 years on, the Hub's Danpalon translucent facades continue to stand strong against coastal winds, Queensland summers, tropical humidity, sand and salt.
The Hub was constructed in the shape of a lantern emerging from the Parklands. The illusion of the lantern brings creativity, playfulness and a sense of wonder to the site while also satisfying practical needs in innovative ways. Architects Simon White and Jeff Brown of WHITEARCHITECTURE are known for their effortless abilities to combine both the natural environment and contemporary design into their projects. The duo's values and style were embodied in the project through the Hub's design, homage to local flora, and use of innovative, environmentally friendly materials such as Danpalon panels.
The wide choice of colours offered, helps to inspire architects. Our Green polycarbonate wall facades offer dramatic effects for any design.
Danpalon translucent facade walls comes in green, ice and a variety of colours
The Danpalon translucent facades around the exterior of the building compliment their natural surroundings during the day and see the building transform into a glowing lantern emerging from the earth at night. Vinyl graphics in the shapes of Pandanus (a tropical tree local to the area) were positioned on the backs of the facades. The graphics are highlighted with daylight radiating through them during the day.
WHITEARCHITECTURE was tasked with the challenge of creating a spectacular world-class design for the site in anticipation of the 2018 Commonwealth Games bid. The Parklands were subsequently used for all five Triathlon events at these Games, including the first ever Para Triathlon in Commonwealth Games history. With 1.2 million ticket holders at the Games, the Broadwater Parklands were on show to the world.
The timeless beauty of The Hub was recognised by the industry twice in 2011. A regional commendation in Urban Design was awarded by the Australian Institute of Architecture and it was also awarded the Queensland commendation for Small Project Architecture.
Danpal translucent facades such as this have been proven in Australian conditions for decades. The strength of the facades can withstand any stray sports equipment or other incidental contact. Danpal polycarbonate panels do not shatter in the way that conventional glazing can. Unique protective lacquers are available for highly exposed situations if necessary. The strength and durability of Danpal systems are just two of the reasons they are market leaders throughout Australia and around the world.
For an inspired design or architectural solution, contact the Danpal Australia professionals. There are offices in every state of Australia.