Danpalon Spacetruss Curved Roofing built for Golden Grove Lutheran Primary School
In the courtyard at Golden Grove Lutheran Primary School, a new system from Danpal has been installed. The Space Truss system is a further development on an already exceptional suite of polycarbonate cladding and roofing structures from Danpal.
All of Danpal's polycarbonate cladding offer thermal and UV protection. Danpal's polycarbonate roofing systems can be finished with a range of colours and textures. The canopy panels at Golden Grove were finished with a reflective grey tint that eliminates glare and creates a harmonious glow across the courtyard. Danpal are world leaders in light architecture. This project is yet another example of Danpal roofing systems solving both architectural design and practical needs for the user.
Danpal's range of roofing and façade systems are strong, durable, watertight (due to mechanical lock joints) and have a proven life-span of 30 years in the harsh Australian environment. Space Truss is pre-engineered for large spans in non-cyclonic areas, making it perfect for the project at Golden Grove. The system required no heavy steel roof framing, reducing the cost of the project and installation disruption times significantly. Other products in the Danpal range are suitable for applications in cyclone areas.
The panels and self-supporting frame were easy to handle during installation, ensuring minimal disruption during school holiday periods.
The Danpal polycarbonate roofing panels span across the courtyard, protecting classrooms on either side of the 17-metre length. Curved Space Truss designs can span up to 45 metres with an astonishingly clean visual appearance, without risking strength or durability.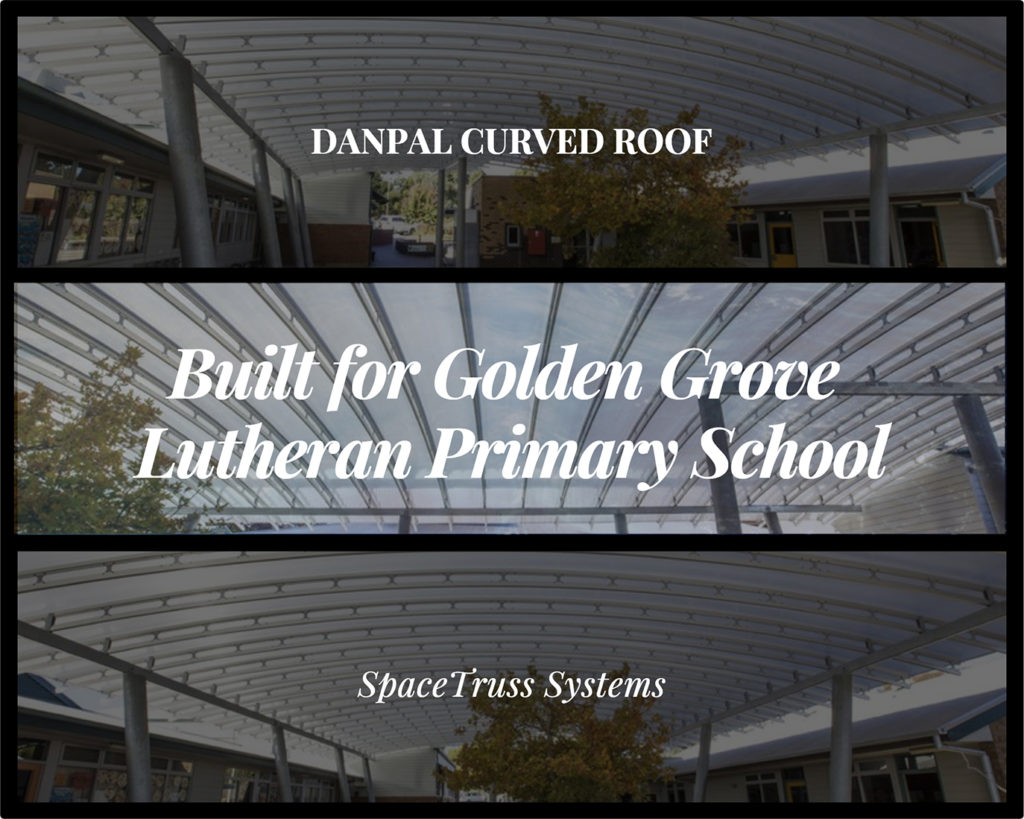 What made this product perfect for this application?
Thermal and UV Protection
Children, staff and visitors benefit from UV protection and thermal insulation throughout to year thanks to Danpal panels blocking virtually all harmful UV radiation and having exceptional insulative properties for a lightweight cost-effective material. Danpal polycarbonate in roofing systems, skylights and facades provide superior insulation against the harshest temperature extremes of the summer and winter months.
The Space Truss system features micro-cell technology to increase impact strength while reducing heat and glare. The Danpalon panels suffer no loss of strength and longevity from the screw fixings that are traditionally required in roofing systems. Danpal systems have not only been proven to withstand Australian rain and wind extremes for decades, but they have also demonstrated countless times they can withstand impact from sporting equipment common in school environments.
Structurally sound and cost-effective
Space Truss reduces installation time, cost and wastage. The panels are clipped into place at 1040mm cntres, requiring no heavy and expensive steel roof framing or additional safety mesh.
Danpal's Space Truss system provide unparalleled benefits to users and greatly simplify the process of erecting large scale shade structures. The experts in light architecture Danpal have delivered a magnificent canopy to the staff, children and visitors to Golden Grove Lutheran Primary School that will stand the test of time.
For more information and inspiration on the Space Truss system plus all of Danpal's other products, please visit the systems section of our website here.