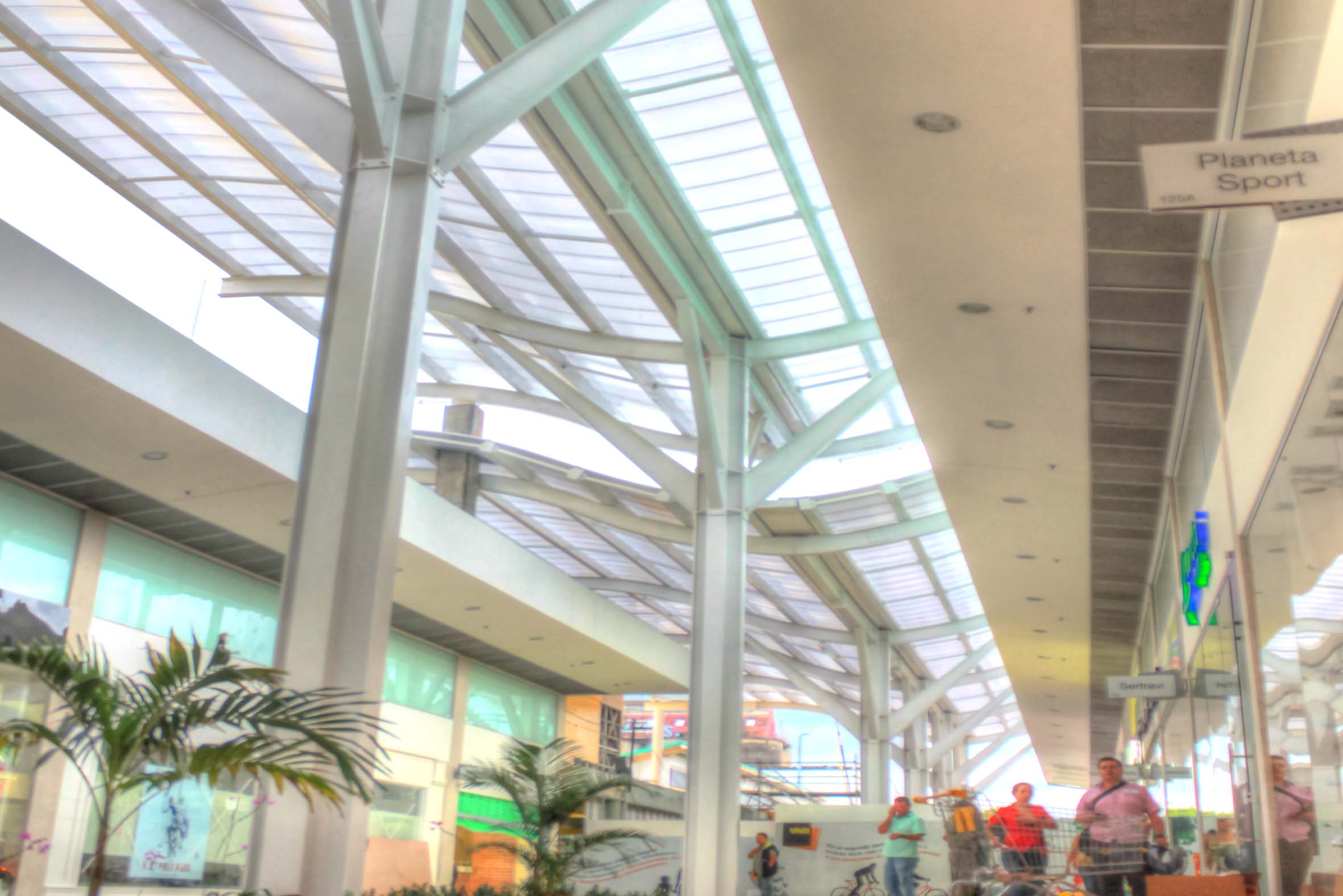 Commercial Roofing Systems made from quality translucent roof panels
Bioclimatic architects are turning to insulated daylighting systems for energy-efficient, ecologically sustainable solutions:
Bring natural light indoors;
Insulate and assist with solar heat gain, and;
Can be easily installed without specialist labour.
Efficiency and Reduced Running Costs
Achieving short and long-term energy efficiency goals and reducing running costs is possible from day one. Ecological designs are unique to each building location and purpose. There is no one-size-fits-all, but there are common considerations:
The local climate.
The local weather patterns.
What materials and technologies that can be sourced locally.
All successful ecological designs have one thing in common: an intrinsic thread of sustainable initiatives woven through the design from the beginning. Cohesive solutions involve careful planning and design strategies that can't be retrofitted.
Collaborate with experts such as energy efficiency consultants and leading manufacturers.
Incorporate energy-efficient materials from the initial concept stage.
Is Sustainability Realistic for Commercial Buildings?
Sustainable architecture has been a topic for study and discussion since the 1970s. However, never has it been as important for the future of architecture as it is now. A significant challenge in modern design is energy efficiency in large-scale developments. The 7000m2 Viva Villaviencio shopping mall is one such example.
Case Study: Viva Shopping Centre, Villavicencio, Meta, Colombia, South America
Product: Danpalon 3D Lite 22mm white with softlite technology
Designers and environmental consultants collaborated with Danpal to ensure Viva would be sustainable in its energy use from the outset, and over the long-term.
Microclimatic conditions:
City in Meta, Columbia, South America.
Hot, humid tropical climate with solar heat gain.
Eastern foothills of the Andes mountain range.
Regular rainfall.
Up to 120km/h wind speeds.
Approximately 5km from the Guatiquía River.
Julie Waldron (BVG Bioclimatic Architects) and Ana Maria Cadavid (Contexto Urbano) chose 3D Lite Danpal for the shopping centre.
Danpalon Engineered Roof Systems
7000m2 of 3D Lite white was installed across seven sections of the mall. The 22mm panels maintain the balance between light diffusion and solar heat gain.
Having proven their longevity with numerous similar local examples over extended timeframes, all stakeholders were confident in Danpal delivering.
Danpalon systems are:
Durable
Resistant to high impacts (so they won't shatter like glass)
Superior in terms of thermal insulation
Ideal for long-term solutions
Suitable for flat or curved applications
Available in a wide range of design configurations.
Green Building Certification (LEED)
Viva Villavicencio is leading the way in sustainable, ecological, large-scale commercial design. We are looking forward to seeing Viva's green building certification proudly displayed in the future!
Can it Be Done? Energy Efficient Shopping Centres?
Yes – large-scale commercial developments can be sustainable using holistic planning that is mindful of the site opportunities, local climate nuances and expected building usage patterns.
Be a part of the future of sustainable architecture. Contact Danpal to discuss your project requirements and energy goals, with your trusted advisors today.
REFERENCES