UNSW New College Masters Natural Lighting in Building Design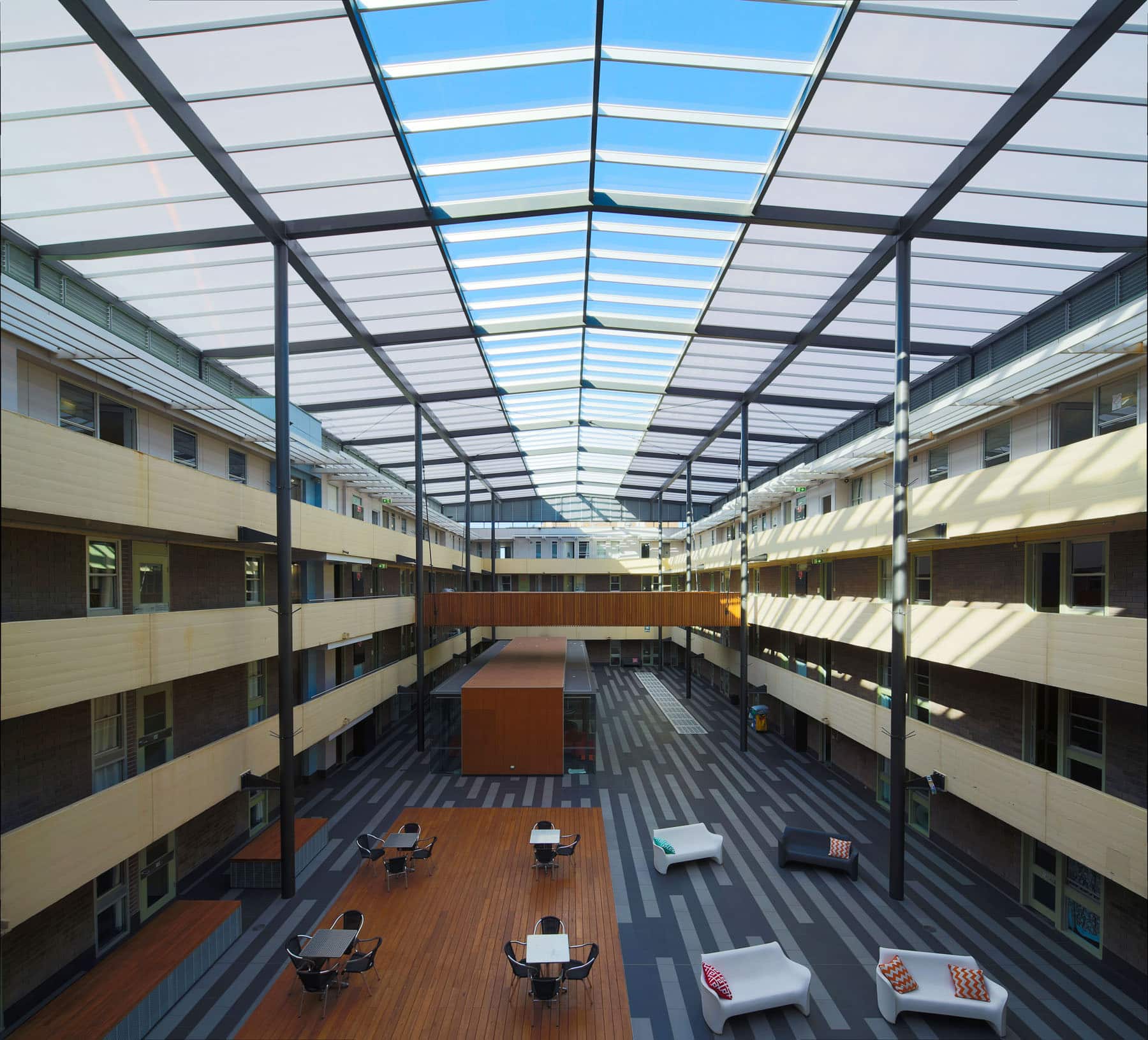 Commercial Polycarbonate Glazing for Energy and Health
Through intelligent and purposeful design, educational facilities and their respective accommodation and relaxation areas can strengthen students' mental and physical health. Increasing student focus, memory and idea generation are critical considerations for architecture.
At the UNSW New College, the entire accommodation facility underwent a remarkable transformation. Small, dark rooms were opened up. Everything from the shelving, nooks, kiosks, communal areas and kitchens were upgraded. Hassell architects incorporated modern, clean styles along with the latest technologies in light architecture.
Designing college buildings which promote learning, naturally moves the designer away from square shapes and rigidness. It also encourages students to step outside their study nooks and share ideas. Designs which evoke positive learning behaviours in and outside of the classroom are essential(*1).
Natural lighting in building design encourages learning and sharing through(*2):
Increased cognitive function.
A sense of safety.
The promotion of curiosity.
Delighting the users of the space, by creating awe
The UNSW New College refurbishment solved natural lighting, protection from the elements and thermal insulation challenges with one product. Danpalon® Opal polycarbonate panels on Freespan bars were installed in on a relatively lightweight independent steel frame over the courtyard. The college had faced years of leaks and constant, costly repairs. The final solution designed by Hassell Architects has solved all of the goals for the roof.
Natural light fills the courtyard where students and staff can come together and relax. The Danpal system is completely water-tight and requires minimal cleaning and maintenance. The Freespan roof has allowed the college to focus on what's most important – the students and staff.
Light and temperature have far-reaching impacts on student learning and recovery. Artificial lighting, poor ventilation and heat are counter-productive to comfort and concentration. Furthermore, dark, windowless, fluorescent rooms tend to increase stress levels(*3). With an increase in cortisol, the fight, flight or freeze reactions can occur in students. As soon as residents in the college accommodation step out of their rooms, they are connected to the outside world via the natural light provided by the courtyard roofing.
Sunshine strengthens and protects the nervous system, reducing the likelihood of cortisol overload. Daylight also boosts serotonin, boosting the mood and concentration abilities of students. Furthermore, students will sleep better each night after learning and relaxing in sunlit rooms.
US data shows that students' learn and test better in schools with natural daylight and, inclusive, colourful designs(*2, 4). Absenteeism due to illness drops with improved daylighting, temperature control and ventilation(*5). Researcher, Gregory Kats(*5) refers to this as "educational enrichment".
Danpal Freespan Roof System delivers natural light across the four levels of the student accommodation facility. The Danpalon® 16mm Opal panels used in conjunction with conventional glazing provides ample daylight for the building without glare(*6). The solar and thermal insulative properties and daylighting contribute to the building's energy performance. The flat roof, Freespan system naturally manages temperature inside the building, adding to user comfort and reduced energy costs.
New College has built for the future with applications that can withstand the test of time, reduce long-term energy costs and promote staff and student health.
References
• 1. Lippman PCEvidence-Based Design of Elementary and Secondary Schools: A Responsive Approach to Creating Learning Environments: Wiley; 2010.
• 2. Taylor A, & Enggass K. Linking Architecture and Education: Sustainable Design for Learning Environments: University of New Mexico Press; 2009.
• 3. Wurtman R. Biological Implications of Artificial Illumination 1968; (Oct):[523-9 pp.].
• 4. Cheryan S, Ziegler SA, Plaut VC & Meltzoff AN. Designing Classrooms to Maximize Student Achievement. Policy Insights from the Behavioral and Brain Sciences. 2014; 1(1):[4-12 pp.].
• 5. Kats G. Greening America's Schools: Costs and Benefits. A Capital E Report. 2006; (Oct):[26 p.].
---
Click to explore more project case study articles or view our project case study videos.