Thrive and Grow with Light and Colour at St. John Paul II Catholic Primary School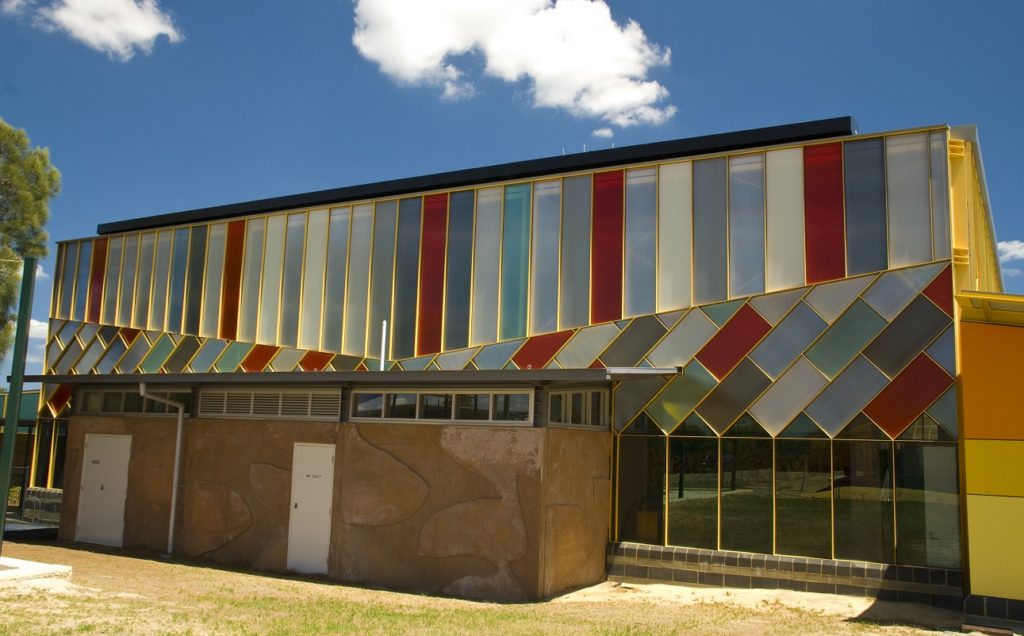 Light in Architecture and Psychology of Light Showcased in School Wall Design
There is a lot more to light and colour in architecture than what we can see. Daylight and colours interact with human biology. They improve health, focus, growth, hormones, behaviour, moods and more. Recreation centres, educational facilities and children's hospitals can particularly benefit from designing with daylight and colours. St John Paul II Catholic Primary School, Banksia Grove embraced light in architecture and the psychology of light in their school wall design.
Most of us could explain how colours make us feel and intuitively choose hues for specific themes or events. Explaining why exactly we choose certain colours is tricky. It usually comes down to a tradition (e.g. a bride's dress should be white) or a scientific reason. There is a wealth of knowledge behind light in architecture and psychology of light that can be used to benefit our children.
Did you know:
Red encourages autistic children to engage in activity? (1, 2)
Magenta in kindergartens promotes mental and physical imaginative play essential to their age-specific development(1)
Ocean blues stimulate intellect in teenagers, making it ideal for exam rooms?(1, 3)
Blues seen by the elderly are duller and yellowish due to the aging of the eye.(4)
88% of parents aren't aware that daylight protects the retina, reducing the risk of children developing myopia (near-sightedness).(5)
The stark, neon-like fluorescent lights most of us sat under every day at school provided zero health or cognitive benefits. Artificial lighting causes headaches, moodiness, loss of focus, near-sightedness(5), fatigue and reduced metabolism. As children are more sensitive to light than adults, choosing the right light is important.(6)
Daylight improves bone strength, concentration, memory, hormones, cortisol, body temperature, protects against myopia(5) and boosts metabolic rate (protecting against obesity and its related health issues).(6)
St John Paul II Catholic Primary School, Banksia Grove by Slavin Architects is an awe-inspiring use of light and colour in architecture. By incorporating an array of colours and daylight into their school wall design, shade and play equipment, students are given every opportunity to succeed. Not only that, they are promoting healthy growth, learning and development.
Danpal Traditional Façades were used extensively in an array of colours at St John Paul II Catholic Primary School. Dry glazed panels are ideal because of their durability. They can withstand stray sports balls and equipment without shattering. Integrated UV protection shields the panels and their users from the harsh Australian sun. There is a colour and finish available to enrich any project. Imagination is the only limit when designing with Danpal.
Colour and daylight can combine to unleash a world of opportunity for supporting and encouraging our children to be at their best and do their best, naturally.
References
1. Day C. Places of the Soul: Architecture and Environmental Design as a Healing Art. Oxford: Architectural Press; 2004 8 Jun 2019].
2. Gaines K, Curry ZD. The Inclusive Classroom: The Effects of Colour on Learning and Behavior. Journal of Family & Consumer Sciences Education [Internet]. 2011 8 Jun 2019; 29:[57 p.].
3. Barrett P, Zhang, Y. Optimal learning spaces: Design implications for primary schools2009 8 Jun 2019.
4. Best J. Colour Design: Theories and Applications: Woodhead Publishing; 2017 25 Jun 2019].
5. Ngo C, Saw S, Dharani R, Flitcroft I. Does Sunlight (Bright Lights) Explain the Protective Effects of Outdoor Activity Against Myopia? Ophthalmic and Physiological Optics [Internet]. 2013 24 Jun 2019; 33(3):[368-72 pp.].
6. World Green Building Council. Lighting in Schools n.d. 24 Jun 2019:[2 p.].
---
Click to explore more project case study articles or view our project case study videos.