Jacob's Creek is 'Everbright' in Bennelong
A perfect compliment to a glass of Jacob's Creek white wine
In the crisp air of Sydney's midwinter, there was only light and warmth felt at the Jacob's Creek space cube, modular system architecture. When you think the pop-up and modular architecture trends can't evolve any further, they take a whole new direction. Spacecube modular systems with Jacob's Creek and local suppliers have levelled up modular building. In Bennelong, spacecube modular systems brought in local light architecture experts, Danpal Australia.
They have upgraded the quality of building materials and finishes. Together, Spacecube and local suppliers have set new standards in modular housing. Read on to learn how a coastal façade was integrated into the Jacob's Creek, Bennelong pop up design.
Danpal was excited to be a part of the project destined for the beautiful Bennelong banks in Sydney Harbour. It took shape seamlessly. Spacecube's inventiveness, attention to detail and local manufacturer collaborations are impressive.
During the day, the light-diffusing into the space was akin to a sweet rosè. As sunset fell, the depths of the orange and red sky called for a red as moonlight struck the translucent panels used for the pitched roof, the area filled with crisp whites. Danpal panels allowed natural and artificial light into the space. As a result, the interior and outside environment was one during the day and the night. Danpal's Everbright® roof system and Jacob's Creek white wine are a match made in Bennelong.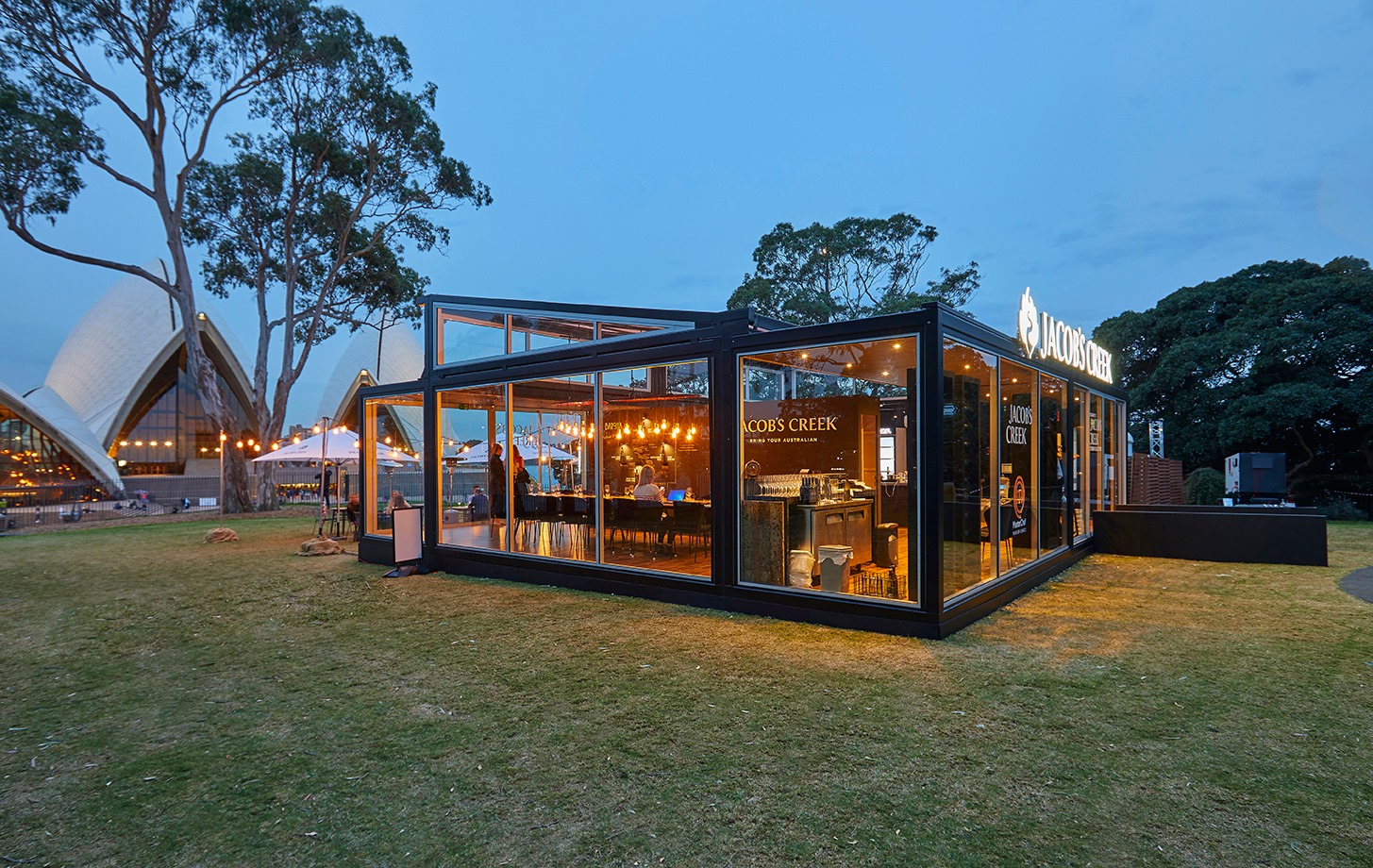 It's not very often Danpal is synonymous with wine, but in this case, it was a perfect fit. The Jacob's Creek project saw Sydneysiders taking on the kitchen – Master Chef style. It was an exceptional dining experience, mixed with some fun and a quality glass of red.
This wasn't the first time our roof systems have been used in unique and novel applications. Everbright® clear span panels were foundation features of The Australian Open's Kia Display. They also made up vital elements of displays at the Australian Grand Prix in March.
Danpal products are easy to install on the biggest of building envelopes. The cassette-style panels make for quick installation and pack down. As the panels are made to size in strict factory conditions, they're suitable for years of Australian weather. Coastal façades can take on the sun, summer storms, sports equipment and even salty air. That's exactly right – a coastal façade made for the Australian coast.
Our translucent panels are up for the task. From installation, pack down, and transportation to a new site to do it all over again. Our products have proven to be reliable, quality products with long lifespans.
What's also great about our architectural panels is they are 100% recyclable. When displays, such as those mentioned above, are entirely retired, the panels are recycled.
Danpal continues to celebrate Australia in the projects they support and the building envelopes they protect and illuminate every day; turn your idea into the next one we raise a glass to.
---
Click to explore more project case study articles or view our project case study videos.