Hobart Airport Leads in Energy Efficiency with New Airport Façade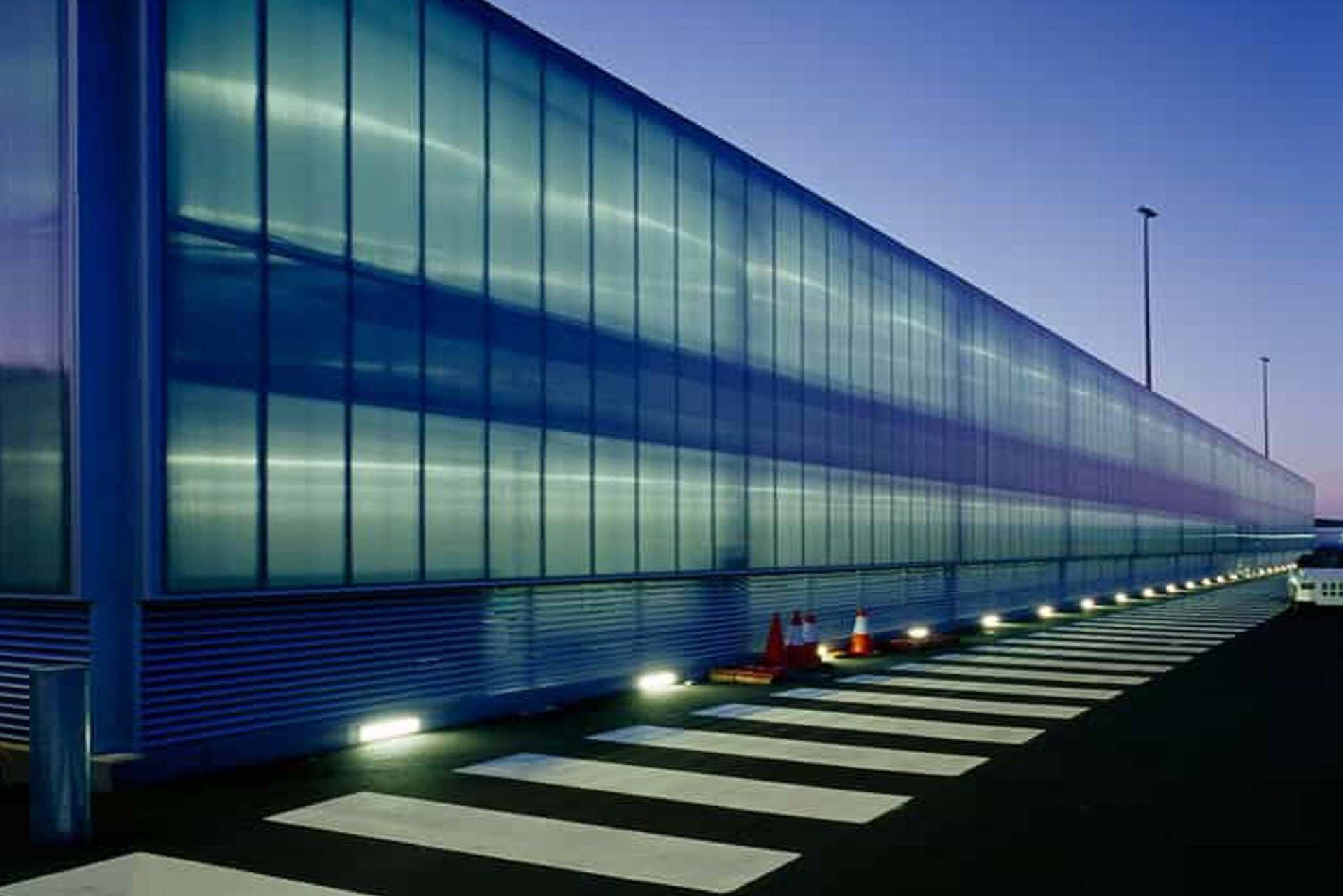 Hobart International Airport is one of Australia's top leaders in becoming carbon neutral
What is Hobart International Airport doing differently? They are building with daylighting and energy-efficient materials in creative and innovative ways. Hassell architects have created a unique, energy-efficient airport façade from a system often used as an industrial building façade or a commercial façade.
Reducing aviation carbon emissions is a global priority as set by the United Nations, International Civil Aviation Organization (ICAO). Aviation emissions encompass everything from jet fuel to travel distance, the makeup of the airports on the ground, and more.
Why Are Airport Emission Reductions Important?
With continued growth in air travel, emissions are rising, but ground-based emissions can be neutralised.
Airport ground-based emissions make up 2%-5% of the global aviation carbon footprint(*1).
By 2035, air travellers will number 7.2 billion(*2).
Asia-Pacific's share of global air travel is 34.7%(*3).
Based on these numbers, Asia-Pacific airports will need to cater for just under 2.5 billion passengers – all while being energy efficient.
Airport operators are taking on the responsibility to reduce emissions and become carbon neutral. From their choice of building materials, building design, how they use energy, to the fuel they use on the ground.
Role Models With Low Running Costs
Airports who become carbon neutral industry are not only role models; they also have lower building maintenance and running costs.
Airport Carbon Accreditation (ACI) Starts with Airport Building Design
ACI is a globally recognised achievement that places accredited airports as industry leaders. It is a voluntary scheme with four ambitious accreditation levels:
Mapping
Reduction
Optimisation
Neutrality
To achieve accreditation, airport operators start with incorporating low energy materials, daylighting and quality insulation into building design from the outset.
Old buildings are analysed for energy efficiency and upgraded where necessary.
All new builds are designed from the beginning with energy-efficient materials(*4).
What is Hobart Airport Doing Differently?
Hobart International Airport is one of seven Australian airports to reach level two airport carbon accreditation. The airport has received a complete makeover to improve ground-based emissions(*5):
The plan included using energy-efficient materials in all new extensions and upgrades to:
Increase energy efficiency;
Reduce heating and cooling;
Reduce lighting;
Hobart airport has had a 6% growth in passengers with more than two million annual flyers(*6). Every effort is being made to balance the airport's carbon footprint. With more upgrades planned, Hobart is set to become Australia's second carbon neutral airport.
Energy Efficient Building Materials
The northern baggage handling hall allows baggage handlers to work comfortably in a naturally lit environment (*7). 16mm large-span translucent façades house the 2870m2 hall, flooding it with diffused daylight(*8-9). (The Danpalon was supplied in 2007)
The airport façades:
Provide insulation.
Manage heat loss.
Manage heat gain.
Diffuse light into the interior space.
Protect travellers and staff from harmful UV rays.
Require minimal cleaning and ongoing maintenance.
Are manufactured off-site, eliminating on-site delays and construction time.
With the installation of Danpalon Seamless façades, electrical costs and emissions associated with temperature control and lighting are reduced.
Positive Airport Experiences
At night, the baggage hall emits a warm glow to arriving passengers as light radiates from the Danpalon façades.
References
*1. Bylinsky M. Airport Carbon Accreditation – Empowering Airports to Reduce Their Emissions. In: 2019 Environment Report – Aviation and Environment Destination Green The Next Chapter. Montreal: International Civil Aviation Organization (ICAO); [168-70].
*2. International Air Transport Association. IATA Forecasts Passenger Demand to Double Over 20 Years 2016.
* 3. International Air Transport Association. Air Passenger Market Analysis – December 2019.
*4. Airport Carbon Accreditation. Airport Carbon Accreditation Europe: 2009.
*5. Hobart Airport. Hobart Airport Celebrate Level 2 Airport Carbon Accreditation 2019.
*6. Hobart Airport. Hobart Airport. Our Story: Using Danpalon Airport Wall Facade Seamless Systems for the Building Envelope 2019
*7. Core Logic. Hobart International Airport Northern End Upgrade, Stages 3 & 4: 2019.
*8. Hobart Airport. 2015 Hobart Airport Master Plan 2015.
*9. Danpal Australia – Hobart Airport Sydney; 2019.
---
View the Hobart Airport Project Gallery
Click to explore more project case study articles or view our project case study videos.