Danpalon and Everbright Polycarbonate Glazing Lights Up Byford Secondary College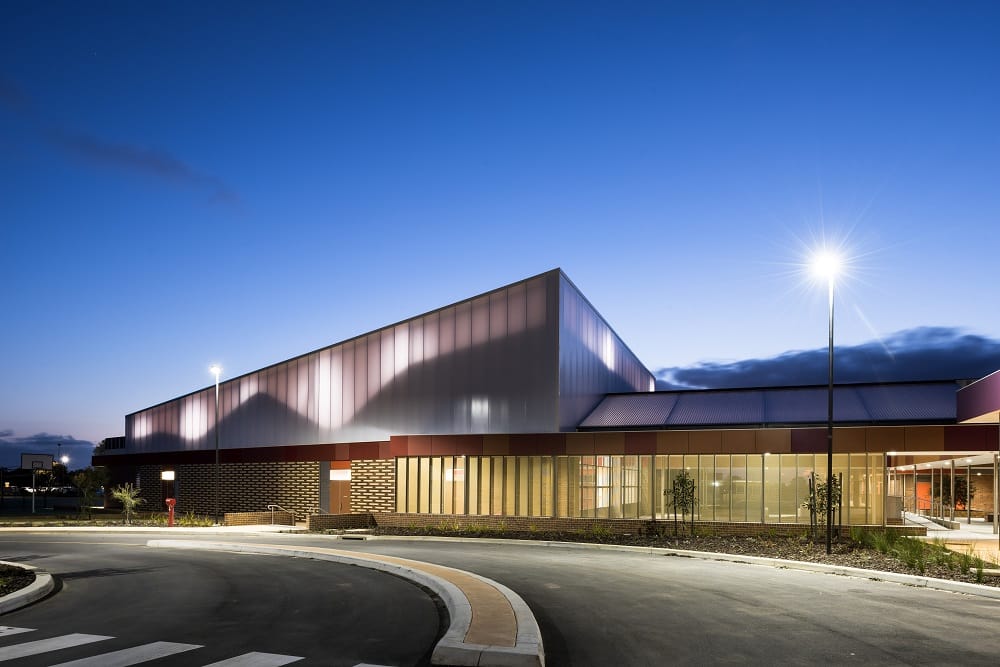 Combined Everbright® and Danpalon® Polycarbonate for Optimally Diffused Lighting
Architects Donaldson and Warn (now renamed With_Architecture Studio) and Cooper and Oxley builders put their expertise together to bring the $38 million Byford Secondary College project to life in Western Australia. The development features Danpalon® polycarbonate interior cladding, roof-lights and vertical glazing on the sports hall interior, as well as Everbright® roofing in other areas.
Their design challenges included strict product selection criteria, requiring materials that:
• Met BCA Section J requirements for energy efficiency.
• Provided abundant natural light without any glare.
• Offer high thermal insulation to ensure thermal comfort for occupants.
• Was durable enough to withstand damage by sports equipment.
• Could span a vertical opening 6.8 metres high with a flexible curved frame.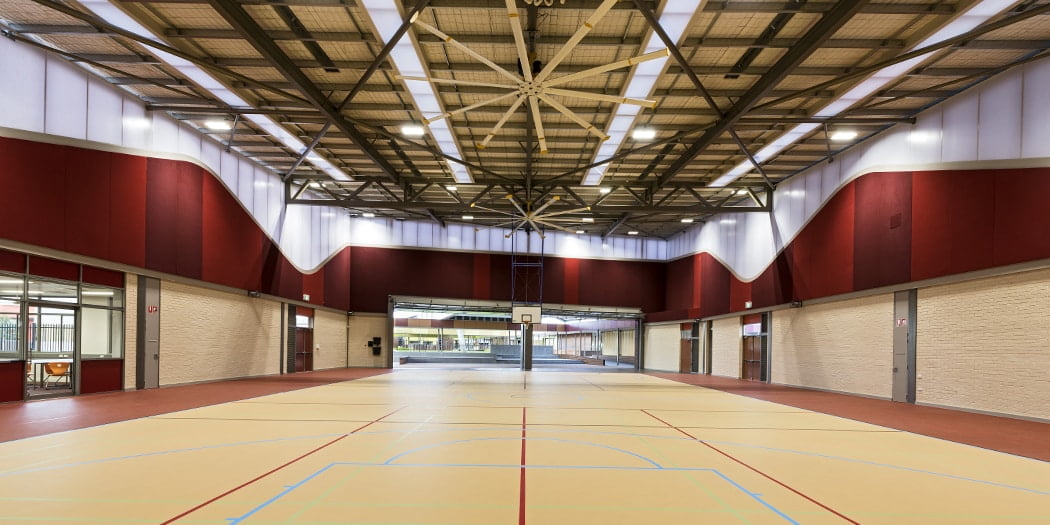 Danpal polycarbonate systems were used to diffuse light into the sports hall via roof-lights and high level glazing, bringing light into the area while effectively managing heat transmission and glare. At night the building is transformed into a radiant beacon of light.
The frame of the 1040mm wide façade panels was curved to give the design liveliness and fluidity. A double layered façade system was chosen to maximize thermal insulation and to create a seamless appearance both externally and internally.
Advanced Architectural Products in Western Australia produced shop drawings and carefully fabricated the curved aluminium framing to precise requirements, ensuring the installation process was completed efficiently on-site. Danpalon®'s light weight nature for easy handling and simple standing seam connection system made installation quick and cost effective.
The building of the sports hall was completed in June 2016. Since then, it has played host to countless sports teams, students and visitors. All have experienced the awe and beauty of the building's well-lit but thermally comfortable internal environment. The architects were awarded the AIA WA award for Educational Architecture in 2017 in recognition of the quality of this project.
As with countless global projects over many years, the Danpalon® translucent glazing panels provided such benefits as:
• Strength from the application of micro-cell technology.
• Protection from ultra-violet radiation.
• Solar and thermal insulation.
• A Codemark-approved waterproof installation.
• Colour options to suit any design.
• Complete visual comfort through translucent glazing.
• Long panel lengths with minimal weight.
Not only do the panels offer protection from damage caused by sports equipment, but also protects from harsh winds and hail damage due to the micro-cell technology in the manufacturing of the panels. Micro-cell technology has more layers and more cells than basic polycarbonate sheets, making Danpalon® stronger with enhanced durability.
Glare and heat can cause significant difficulties for all building occupants. The Danpal Seamless Façade system naturally diffuse light, reducing glare and eliminating visual 'hot-spots' for players and those trying to get a good view of the game. Heat management is a major cost for any building. Danpalon® polycarbonate panels insulate and reduce the amount of heat transferred to the space, reducing both HVAC costs and increasing user amenity. This benefit fits with Byford Secondary College's sustainability goals and greatly assisted in achieving compliance with BCA Section J requirements for energy efficiency.
The wave design for the seamless façade system inside the sports hall brings a sense of movement.
The application of Danpalon® and Everbright® polycarbonate systems at Byford Secondary College have given school staff, students and the wider community an aesthetically pleasing landmark project to use and enjoy for years to come.
---
View the Byford Secondary College Project Gallery
Click to explore more project case study articles or view our project case study videos.