Autodesk Revit Architecture BIM Made Easy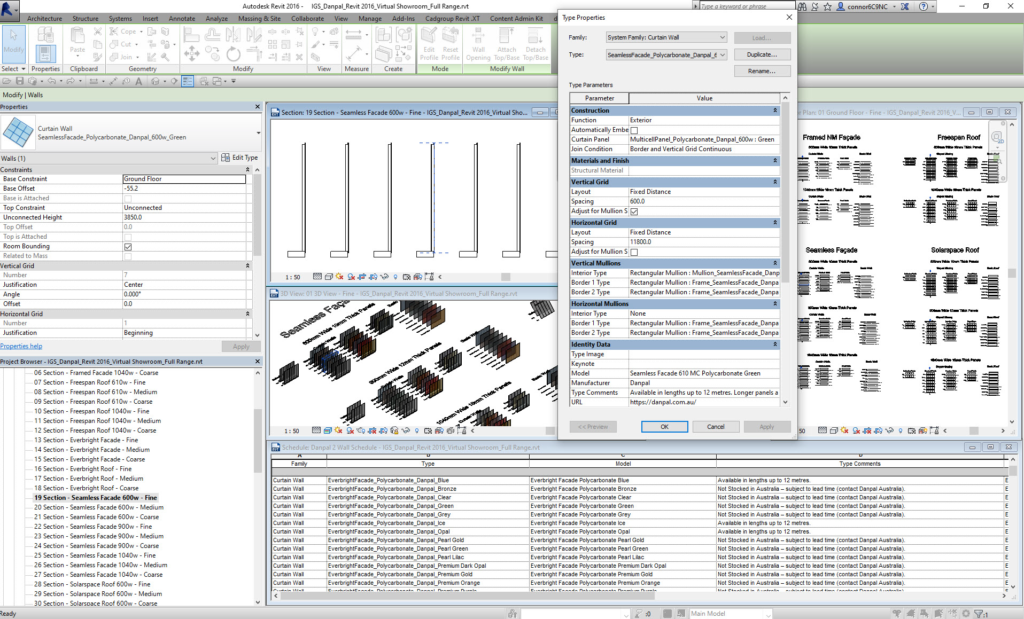 An updated Danpal Revit library is now available for Autodesk Revit 2020 in Australia. The new library reduces design time, accurately illustrates product details in 2D and 3D and offers increased flexibility in design. All content can be imported from and exported to AutoCAD and all Danpal systems are available in DWG format if this is preferred.
Revit Building Information Modelling (BIM) Software
Individuals, small and large companies and in particular, architecture, engineering and construction industries use Revit. Revit offers users:
• Smart design features. From inserting walls, windows and doors to choosing specific manufacturer products for building elements such as facades.
• Building performance analysis.
• Life-like visuals so you can see what the final product will look like.
• Cross-industry collaboration. Share projects with other stakeholders such as engineers, architects or contractors.
Made to Australia and New Zealand Revit Standards (ANZRS)
Danpal's Revit library delivers on quality and end-to-end design needs. Created with the ANZRS in mind, it easily meets best practice standards.
The featured Danpal Range:
• Everbright Roof and Façade System
• Danpatherm K7 Façade System
• Seamless Façade System
• Solarspace Roof System
The featured systems can be modelled as curtain walls and sloped glazing or as standard walls/roofs. Visualise with new systems easily with the updated Danpal Revit library.
Reduce Design Time
Danpal product specifications are embedded in each Revit 'family'. Manual input of installation elements and product parameters are not required. Automating this time-consuming aspect frees up valuable time to focus on design.
Value Engineering
The integration of Danpal content into Revit is a significant step forward in value engineering.
The ability to easily compare product applications gives flexibility to the designer and each individual project. It provides a platform for Danpal solutions to demonstrate their ability to:
· Reduce project costs, and;
· Increase value through functionality and product features.
An entire design can now be completed within the Revit environment. This is not limited to full 3D visualisations; it also includes documentation and scheduling.
Start reducing project and energy costs over the lifetime of the building with Revit and collaborate with Danpal, the pioneers in light architecture. Explore the Danpal Revit Library here.
For more on Revit, features, and examples of how people are using Revit can be found here. For help with using the software, visit the Revit help page here.
---
Read about inspiring Australian projects through our case study articles or view our Thought Leadership Videos to learn more.